Today, many people struggle to maintain their credit ratings.
Lavish spending, excessive use of credit cards, and high-interest loans contribute to poor credit.
As a result, they can't access credit lines.
Even if they get a loan, they will pay insane interest rates and fees.
People often seek help from experts to resolve their situations.
That opens avenues for a credit repair business.
There's immense demand for professionals in this field. However, the key question is how can you start a credit repair with no money?
Let's find out tips to start this business with no money upfront.

How to start a credit repair business with no money
Moved by the demand, many individuals wish to jump-start in this sector.
However, setting up a business warrants money and effort.
You may be ready to dedicate time and effort, but what about money?
What if you don't have the funds to start this lucrative venture?
If so, you may drop the Idea.
However, there's a way to begin a venture investing nothing.
Here are handy tips to start a credit repair business without investing a single penny.
1. Research Before Starting Your Credit Repair Business
Starting any venture involves a ton of legwork.
Many folks don't go into this line with realistic expectations.
So, they close their business after a while.
If you don't wish to finish up like them, set realistic goals.
Understand the time you need to invest in this venture.
Dedicate enough time to studying how to become a professional in the field.
Above all, be prepared to wait for a long time before reaping noticeable results.
If you're ready for these scenes, you'll eventually succeed.
Your efforts will repay you in terms of a profitable venture you ever wished.
2. Have A Business Plan For Your Credit Repair Business
Never start a business without a plan.
As a smart entrepreneur, you'd like to run a successful business.
Your success chances get multiplied by having a sound business plan.
Many newbie entrepreneurs with no clue of how to start a credit repair with no money fail in planning.
So, they wrap up with no progress.
An ideal business plan should include a road map of activities.
Jot down why and how you're going to get started.
Enlist your competitors' names.
What makes you stand out and unique from them?
Enlist serious drawbacks of the credit repair field and try to find resolutions thereon.
Make a list of your targeted demographics.
Write your services/products and the expenses you may incur.
Set smaller goals initially.
Have plans and methods to attain those goals.
Beware of your profit margin.
All these points will help you get started.
Plus, they'll keep you from deviating from your business plan.
Not just that, your plan will help you rectify blunders you might make during your tenure.
You might get overwhelmed with the points in the business plan.
Don't worry!
Take each point step by step and try to master it.
By doing so, you'll ease your labor.
Plus, the plan won't look bigger or pile up on your nerves.
Also, spend time getting trained in the field of credit repair.
You'll have to impart the same training to your workers or partners.
3. Register A Credit Repair Business Name and EIN
Create a business as a corporation or an LLC, preferably an LLC.
You may create a DBA under that name.
Naming the entity is up to you.
You can pick your name or anything else.
Henry busters, LLC or Alex holding, LLC are a few examples.
Some individuals think of starting a venture as a sole proprietor.
However, a sole proprietorship firm risks your individual assets.
So, make sure you form an LLC, not a sole proprietorship.
When picking a business name, avoid the word credit or credit repair.
Why? Some lenders, merchant accounts, and banks might consider you high-risk.
It could be hard for you to bag a merchant account with sound rates.
Credit repair businesses are termed high-risk because their customers default on debit and credit card payments.
That gives the business charge-backs, and banks don't like that.
Think of a name that's marketable, memorable, and captivating.
Choose a state to form your business.
Most people choose their own state for formation.
However, setting up a credit repair business in another state can be helpful.
Why? Some states provide tax benefits.
So, forming your business in a tax-haven state enhances your overall profitability.
Next, get an EIN. It's a Federal Tax number used as an identification of your business entity.
Just visit the IRS website and apply for your EIN.
Now, set up your business bank account and merchant processing account to complete the business formation process.
Finally, get familiar with relevant legal/statutory requirements and comply with those rules/laws to avoid issues later on.
4. Get A Credit Repair Business Software
Planning and automating your work are the best ways for your credit repair business.
You need credit repair software to help your venture grow.
The software cuts down auditing time, makes important suggestions, and lets you manage customers.
It sends dispute letters to leading credit bureaus.
You can also manage customer services effortlessly.
The downside is buying the software can be a pricey affair.
Now, you're on a shoestring budget.
So, what's the alternative?
You can get started with a free project organizer such as Trello.
The tool includes most of the features of credit repair software.
While the application doesn't mimic software on all points, it'll reduce your legwork and streamline your activities.
Read our reviews about the top credit repair software.
5. Consider Hiring Employees For Your Credit Repair Business
It's not possible to do all the activities of your business yourself.
You need a workforce to get started.
However, there's no need to hire hundreds of workers.
As a beginner, you need a small staff.
Still, you'll have to pay those workers each month.
What if your business doesn't scale up within a couple of months?
It may take 2 to 3 months to get clients and reach the break-even point (no profit, no loss point).
So, how do you manage the scenario by that time?
There are two options.
First, you can hire people as freelancers and pay them a commission for bringing clients.
You won't have to bear fixed monthly salary expenses.
Also, you don't have to invest in equipment and stationery.
Freelancers will use their own tools to do the job.
You can even team up with a couple of individuals to start a credit repair venture.
Each of the individuals will have to perform certain tasks.
The members of the team can share the profit based on performance or as agreed.
Essentially, it'll be like a partnership firm in the LLC form.
You may even prepare a memorandum stating the sharing of profits among shareholders, aka partners.
The profit-sharing option lets you get rid of workforce expenses.
However, both options will work fine initially.
When your business will expand, you'll need workers.
A few individuals can't handle all the activities of a flourishing business.
However, by that time, you'll have enough money to pay your workers.
As of now, any of the above options will work for your situation.
6. Set Up Your Credit Repair Business Pricing Structure
Look at your competitors' pricing structure.
Find out their strengths and weaknesses.
Figure out how they perform with the said pricing structure.
Besides the one-time startup charge, you've to gain revenue continuously when working with your clients.
Some businesses go for flat-fee pricing.
Then others choose per deletion fee.
You can also choose a subscription structure.
It all depends on your marketing and scalability to find the right structure.
No matter what you choose, keep the one-time startup charge low.
Such an option will motivate users to test your services.
You can also restructure pricing with time and success.
That should let you become a scalable solution in the credit repair line.
7. Set Up Your Credit Repair Business Website
A home-based venture cuts down the office cost and ensures enough time for your business.
However, you need a website to make your online presence.
Today, over 75 percent of people use online platforms for their chores.
Seeking credit repair help isn't an exception here.
So, be sure to have an appealing site on the net.
The sad part is a website and hosting will cost you.
But you're short of funds.
So, should you give up the idea of hosting a website?
Of course, no! If you do so, you'll have to wind up your venture in time.
So, what's the solution?
Many free hosting options exist.
Wix is a popular name that provides a shared domain name and free hosting with limited capacity.
Also, you get to choose from a myriad of web designs.
Groove is another great option for your situation.
It's essentially a funnel-building software application that provides a free domain name and hosting with limited capacity.
It includes a slew of options for generating leads and sales.
You may try this tool free of cost during the initial period of your venture.
As your business yields profits, you may go for a more customized (paid) option as per your needs.
Read our tutorial on how to launch your credit repair website.
8. Set Up Your Customer Service Channels
You only get one chance to leave a good impression on any potential client.
As a smart business owner, you'd like to win the customer in the very first instance.
It's here communication channels come in handy.
Choose the right freelancers or partners with sound communication skills for the job.
Set up multiple platforms to communicate with clients.
A professional email id should be a prime priority.
Create a business email that includes the domain name.
Make sure you respond to each client on time.
Have your phone numbers listed on the website.
When potential customers see your phone numbers, they consider you a legitimate entity.
Besides this, have a live chat option.
Make sure someone is there to attend the phone or live chat option 24/7 round the clock.
You can't predict when a customer will call you for help.
So, beware of this point and take steps in the right direction.
Above all, set up your business voicemail.
75 percent of business calls aren't answered on the first call.
Setting up a professional voicemail is paramount to establishing credibility with customers.
Use a free voicemail service initially.
9. Plan Your Credit Repair Business Marketing
Free marketing is a crucial step of how to start a credit repair with no money.
Winning clients is the biggest part of your success.
If you win clients, you'll scale your venture amid tough times.
If you lag here, you'll end up with minimal success.
No prudent business owner would like to face such situations.
Fortunately, a myriad of marketing possibilities exist.
Read our comprehensive credit repair marketing blog post.
Market Your Credit Repair Business My Word of Mouth
As a newbie, rely on word-of-mouth marketing to get clients quickly.
Tell your friends and relatives to spread awareness about your business.
Also, seek help from your neighbors and acquaintances.
These folks will help you get customers in the beginning.
Once you get a few clients, you'll stay motivated towards success.
Rank Your Credit Repair Business With SEO
SEO aims to rank your site higher in search results.
It takes time before you could secure a top slot in search engines.
However, organic traffic brings thousands of customers each day.
Also, you can do it on your own, provided you put in dedicated efforts.
Optimize your website with relevant keywords.
Your probable keywords could be affordable credit repair, best credit repair solutions, or successful credit repair.
Optimize each of your web pages with these keywords.
Search engines love fresh and engaging content.
So, have a blog for your website.
Write a couple of posts each week.
Optimize the title, Meta tag, and URL of each post with keywords.
Also, include attention-grabbing but minimal images on each page.
Get back-links from other relevant sites.
Over time, your site's ranking will improve, and you'll get a ton of targeted customer traffic.
Read our guide on credit repair SEO tips.
Use Social Media To Market Your Credit Repair Business
Websites such as Facebook, Instagram, YouTube, and Twitter have revolutionized the world.
People connect on these platforms to seek solutions and suggest their recommendations.
So, create your appealing profile on each of these websites.
Build a list of followers and subscribers.
Ask your friends and buddies to endorse your services online to increase your followers and subscribers.
Once you have a comprehensive list of followers, post micro-content aimed at solving problems.
Make sure you leave a link pointing to your site.
If your solutions are helpful, you'll get enough customers through social media marketing.
Read our in-depth guide about credit repair social media marketing.
Use Affiliates To Market Your Credit Repair Business
Networking, also called affiliate marketing, is another way to drive clients.
Start an affiliate program.
You've to pay each affiliate a percent of the sale.
However, you'll still earn substantial money.
Bottom line
Starting a credit repair venture is a profitable idea.
There's immense potential for scalability and profitability in the field.
However, a ton of legwork needs attention to set up a successful venture.
Follow the above guide on how to start a credit repair with no money.
With handy details by your side, there's no reason you can't record success in this competitive but profitable sector.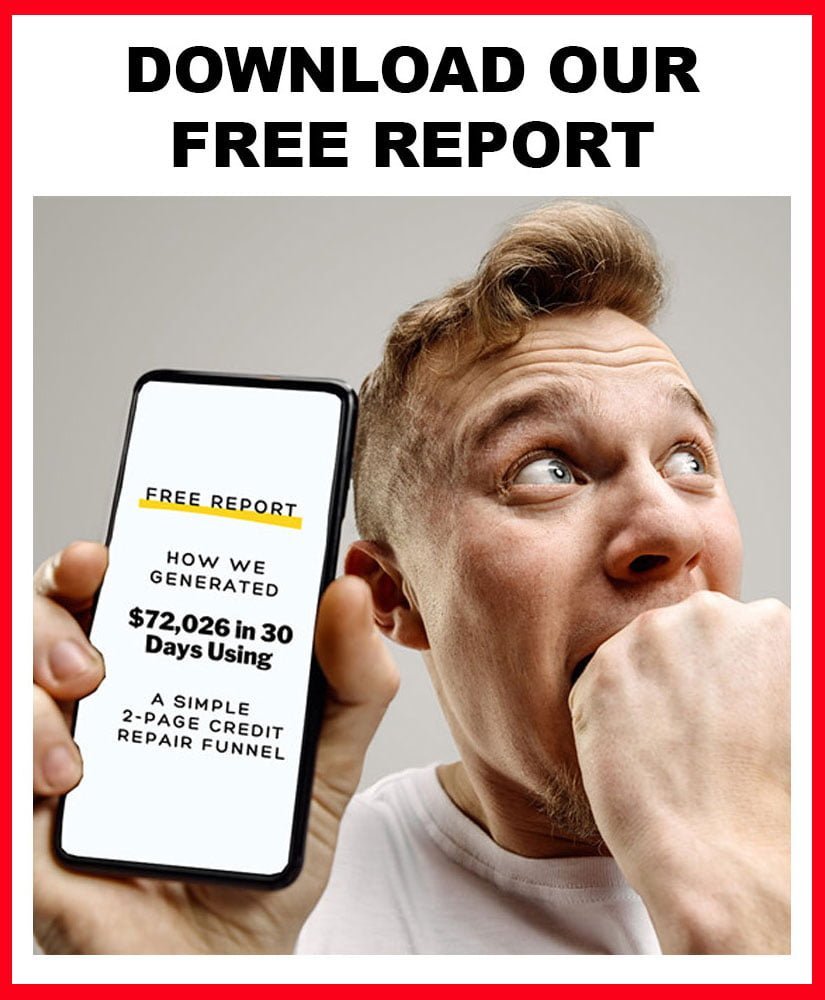 Tools To Help Grow Your Credit Repair Business
Learn How To Create Profitable Funnels in 30 Days with The 30-Day Challenge!
HighLevel CRM

is the be

st credit repair marketing software EVER.
Accelerate your credit repair business with our exclusive

Credit Repair Business Accelerator program

.
High-performing website hosting. One of the service providers we recommend is Siteground.

Disclaimer: In the name of full transparency, please be aware that this blog post contains affiliate links and any purchases made through such links will result in a small commission for me (at no extra cost for you).