Disclaimer: In the name of full transparency, please be aware that this blog post contains affiliate links and any purchases made through such links will result in a small commission for us (at no extra cost for you).
Millions of Americans have poor credit.

There is an incredible pool of potential customers for your credit repair business.
Let's talk about some ways, old and new, that you can use to find credit repair clients.
How To Find Credit Repair Clients Using Affiliate Referrals

One of the most effective ways to find credit repair clients is by building a referral program.
Make deals with other people who have high traffic sites to advertise your business.
You only have to pay a commission for converted clients.
Still, it would help if you chose influencers who have the same target audience as yours.
Go out and meet up with realtors, auto dealers, mortgage brokers, tax preparers, and other professionals from your area.
Collaborate with them to refer your services to their clients.
You can also make deals with top websites and bloggers to refer your services to prospects.
Partnering with reputable websites and famous bloggers solidify customer confidence with your services.
It helps to scale your business traffic faster.
Word Of Mouth To Find Credit Repair Clients
Everyone you meet needs to know that you are a credit repair service provider.
When people find out that you can help, they are more likely to share with you their credit score problems.
Engage with your current clients, and be part of the conversations about your brand.
Listen to what your customers tell you and provide outstanding service to give them more reasons to talk.
When people are happy with your services, they are more likely to share the news with their friends.

According to Nielsen's report, 92% of customers trust friends' recommendations more than any other form of advertisement.

They are also more likely to provide unbiased reviews than influencers.
Be the best out there, and let your work speak for you.

Once you get your first happy customer, let them know that you are willing to gift them for every converted client you get from their referrals.

Take care of your customers, do what's best for them to create an excellent reputation, and break down trust barriers.
Consider Business Networking
Join some local business networking groups.

Develop relationships with like-minded individuals that have similar goals.

Ask for opinions from other experienced peers to help see things differently.

Active networking will strengthen your business connections and allow you to present your skills.

It also creates an excellent source of fresh ideas and the latest industry developments.
Please take part in local business events, meet new people, and talk to them about your credit repair business.
It builds your reputation as a knowledgeable, supportive, and skilled service provider.
Also, attend business seminars, and join relevant professional associations.
Use Email Marketing
Email marketing is another viable strategy that you can use to find clients for your credit repair business.
In fact, 99% of customers will check their email inbox daily.
Most prospective customers may not react to ads, but chances are, they will read your emails.
Use an automation system to send personalized emails to your customers.
You need to segment your market so that you only send your emails to interested recipients.
Email marketing enables you to reach out to a broad group of potential customers.
A well-executed email campaign may encourage people to ask for a consultation.
Tell people more about your credit repair services, and offer helpful information through emails.
Optimize Your Credit Repair Website
To attract new clients, you need to create and optimize your credit repair website.
It's your little slice of the internet where you'll send your customers to learn more about your services.
Once a potential client gets to your site, you want your website to answer the most common questions potential clients have.
Cost, results, guarantees, reviews, testimonials are all important pieces to have.
You can also let them know what's new with your business and provide compelling content like the importance of repairing their credit.
Optimize your site to capture your prospective client's attention and persuade them to hire you.
One of the best ways to drive organic traffic to your site and convert your page visitors into paying clients is credit repair seo.
Ensure that the webpage has an easy-to-navigate interface so that your customers can easily find all the information they need.
Remember that most customers will access your website through their mobile devices, be sure that it's optimized for a mobile experience.
Remember to add alt tags while uploading images on your content to improve their chances of appearing in Google image search.
Research your main keyword and include it in your content.
Use meta descriptions and title tags so that Google easily recognizes your text's actual meaning for better ranking.
Focus on your local SEO by utilizing Google My Business, which allows your company to appear in local results.
Remember that most potential clients will often search for credit repair services near them to get a provider they can meet in person.
Get Online Reviews
Customers' reviews help create more trust and credibility than any promotional message.
Most clients look out for a business's previous success to gauge if they can find help, and that's where reviews come in handy.
Encourage your clients to leave reviews on your sites and post them on your pages.
In fact, you can collect reviews and embed them automatically on your website with services like ReviewsOnMyWebsite.
The best way to attract positive reviews is by providing exceptional services that surpass your client's expectations.
Note that 57% of customers will only reach out to businesses with at least four stars rating.
Make the reviews process easy and guide your customers on where and how to leave their testimonials.
Follow up with your clients after receiving your services and ask them how they feel about the entire process.
If you have some long-term clients, you can request them to film testimonial videos.
Numerous positive reviews will help build brand authority, trust with existing customers, and attract new clients.
Negative reviews let you know about areas of improvement for your business.
You have the opportunity to address your customer's problems publicly and improve your business operations where necessary.
Provide Relevant Content
Create informative content and get it to the right audience to improve your businesses' online presence.
Content marketing will help you attract customers to your website and keep them engaged.
This creates stronger relationships that translate to better leads.
Discuss topics relevant to credit repair in blog posts, videos, infographics, or even e-books.
Share them widely across multiple channels.
Pro Tip: Google prefers long-form, helpful content.
A lot of duplicate information may result in penalties and affect your search engine rankings.
The information should help your target audience solve a problem, feel better, or even find answers.
Additionally, ensure that you regularly update your content.
It helps inform the public about your business while establishing your company as part of the local community.
Don't have time to write content? Hire an SEO agency or use freelancers.
We love Fiverr for things like this. Remember, be consistent.
Use Paid Ads
Paid ads give businesses a chance to attract more targeted leads.
Most clients have no idea how to improve their credit.
Use paid advertisements to position your business in front of these customers and offer a special promotion to attract new business.
One of our favorite channels for credit repair leads is Facebook.
With credit repair Facebook ads you could scale your business fast and profitably.
When you advertise via Facebook ads, you also have the ability to display those ads on the Instagram network, increasing your potential customer base.
Leverage Social Media
Social platforms help build relationships between businesses, clients, and the community in the digital era.
Today, most people turn to the internet to find solutions for their credit scores.
You should use your social media platform to educate your audience and attract them to your webpage.
Create an active YouTube, Instagram, Facebook, Pinterest, Snapchat, Twitter, and LinkedIn accounts.
Engage with your audience on different platforms by soliciting feedback about your services and replying to comments, messages, etc.
Also, give shoutouts, ask open-ended questions, offer promo codes, and other giveaways to your loyal audience.
Remember to place your website links in your posts or profile to encourage your audience to check out your services.
Most importantly, stay consistent with your activity on each channel.
Think of it as your daily mini-billboard that advertises your business.
You can also outsource this by using a service such as TinyBull.
Distribute Flyers
Another simple and yet effective way to find credit repair clients for your business is by distributing flyers.
This works well for many small or medium-sized companies when on a budget.
You can distribute them in parks, streets, or even as a newspaper insert.
Come up with a creative design, let the main message stand out to attract readers.
You can also include coupons, vouchers, and other promotional discounts to draw customers' interest.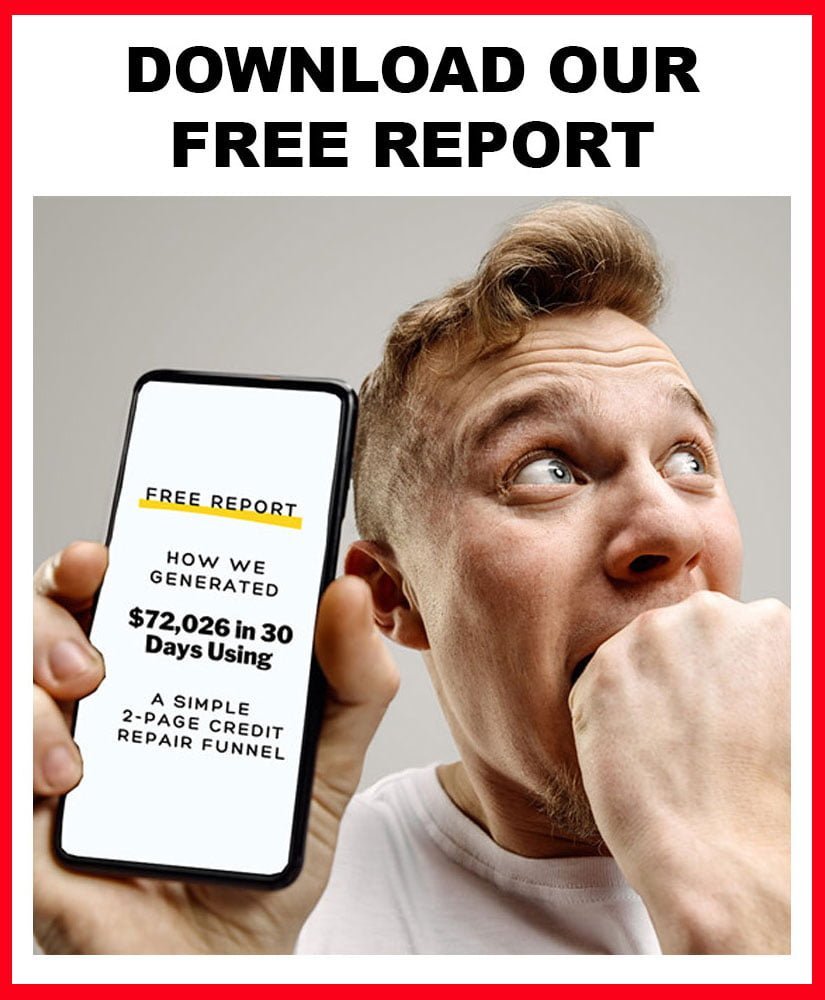 In Conclusion
If you want your credit repair business to flourish and not fizzle, then you'll want to get started and continue to execute any or all of these strategies.
Hopefully, the above piece on how to find credit repair clients will get you started.
You can combine several methods outlined above to explore other lead sources that will earn you more business.
Keep evaluating different strategies and choose those that work best for your business, and your credit repair business will soon get to where you envision it.
Tools To Grow Your Credit Repair Business
Tools To Help Grow Your Credit Repair Business
Learn How To Create Profitable Funnels in 30 Days with The 30-Day Challenge!
HighLevel CRM

is the be

st credit repair marketing software EVER.
Accelerate your credit repair business with our exclusive

Credit Repair Business Accelerator program

.
High-performing website hosting. One of the service providers we recommend is Siteground.

Disclaimer: In the name of full transparency, please be aware that this blog post contains affiliate links and any purchases made through such links will result in a small commission for me (at no extra cost for you).