You've decided to market your credit repair business on Instagram using credit repair hashtags and want to know the best hashtags for your posts.
For the fast answer, scroll down for a breakdown of the best credit repair hashtags we've found for Instagram.
For anyone looking to be strategic with their posts, keep reading.
Credit Repair Hashtags Strategy
It's more than just hashtags. The type of content you post will determine if you get leads or not.

Here are some great types of content to consider posting regularly.
Client Results
Client Testimonials
Educational/Informative
Interviews
It also helps to post to your Instagram Stories regularly.
Experiment with going Live and Instagram Reels.
Instagram Reels is fairly new. Many credit repair companies are seeing increased reach when posting to Instagram Reels.
Be sure to read our in-depth guide about Credit Repair Instagram Marketing
So what are credit repair hashtags on Instagram?
When people are looking for credit repair companies on Instagram, these credit repair hashtags will be displayed to those users.
This is your chance to stand out amongst your competitors.
By clicking on the hashtags, you will get the information regarding the credit repair company.
We have researched and compiled the best Instagram credit repair hashtags below.
1. #Creditrepaircompanies– this hashtag has a percentage usage of up to 15% making it the best to use on Instagram and other online search platforms.
2. #Creditrepair– with a 13% success rate, this hashtag will lead you to fantastic credit repair companies.
3. #creditrepairservices– this hashtag offers a 12% efficiency rate.
4. #Creditrepairspecialist– when you search in this hashtag, your results efficiency rate stands at 9%, according to past searches. For a person offering credit repair services, this hashtag will work as a good keyword.
5. #Creditrepaircompany– this stands at a rate of 9%.
6. #Creditrepairservice– people have given this hashtag an 8% rate.
7. #Creditrepairhustle– this stands at a 7% rate.
8. #Creditrepairagent– people working as credit repair agents will find this helpful hashtag in their Instagram accounts. It will drive traffic into your account for people looking to get a credit repair agent.
9. #Creditrepairquote– those people looking for credit repair service quotes comprise most traffic for this hashtag. It will offer great customers to credit repair agents. The rate stands at 7 % and would work well to boost companies' Instagram traffic as well.
10. #Creditrepairworks– this hashtag also operates at a 7% rate. It will take a good hashtag for Instagram accounts for credit repair companies, agencies, and agents.
The above ten hashtags offer excellent service to those who want to appear fast in the credit repair-related searches on Instagram. Other hashtags with good results include:
11. #Creditrepairtips– this hashtag will be great for credit repair companies or those who want to learn tips on credit repairs.
12. #Creditrepairqueen– if you happen to be a lady working as a credit repair agent, then this hashtag will be perfect for you. when also looking for a female credit repair agent, then typing in this hashtag will be helpful.
13. #Creditrepairking– as a man working as a credit repair agent, this hashtag will be a perfect suit. If looking to find a male credit repair agent, this hashtag has everyday use on Instagram.
14. #Creditrepairagentsneeded– if you need to look for a credit repair agent job on Instagram, this hashtag will lead you to sites that require credit repair agents.
15. #Fixmycredit– Those people who look to get their repairs fixed will get multiple results by keying in this hashtag. A credit repair company agency can also use this hashtag in their profile to direct customers who require fixing to their site.
16. #Creditexperts– credit score experts will find this helpful hashtag too.
17. #Fatcreditrepair– this hashtag will be beneficial to a company that offers credit repair services. This hashtag will direct customers who need a quick credit repair done for them to their Instagram page.
18. #Repaircredit– this hashtag has regular use among new clients in the credit repair field. To attract more customers, a credit repair company should consider using this hashtag.
19. #Creditrestoration– some people may search for a credit restoration hashtag, and having this in your company profile will boost your business. If you need credit restoration services from a credit repair company, keying in this hashtag will guarantee excellent results.
20. #Highcreditscorerepair– if you need high credit scores, searching this hashtag will direct you to fantastic credit repair companies. As a company, putting up this hashtag drives customers who need to raise their credit scores to your page.
How can I find more credit repair hashtags?
You will find more hashtags by searching other online platforms by keying in the above hashtags. One hashtag link offers you other multiple suggestions that you may use on your company's profile.
Frequently Asked Questions That Your Potential Clients Ask When Researching Credit Repair Hashtags
Why do I need a good credit score?
As discussed in this article, good credit scores will unlock a lot of financial benefits. Loans and insurances offer people with high credit scores more benefits, unlike those with low credit scores.
What are Instagram credit repair hashtags?
These are letters, numbers, or symbols that get a # symbol before them.
Are there hashtags for a credit repair company?
As seen in the article, various hashtags will provide results relating to credit repair companies on Instagram.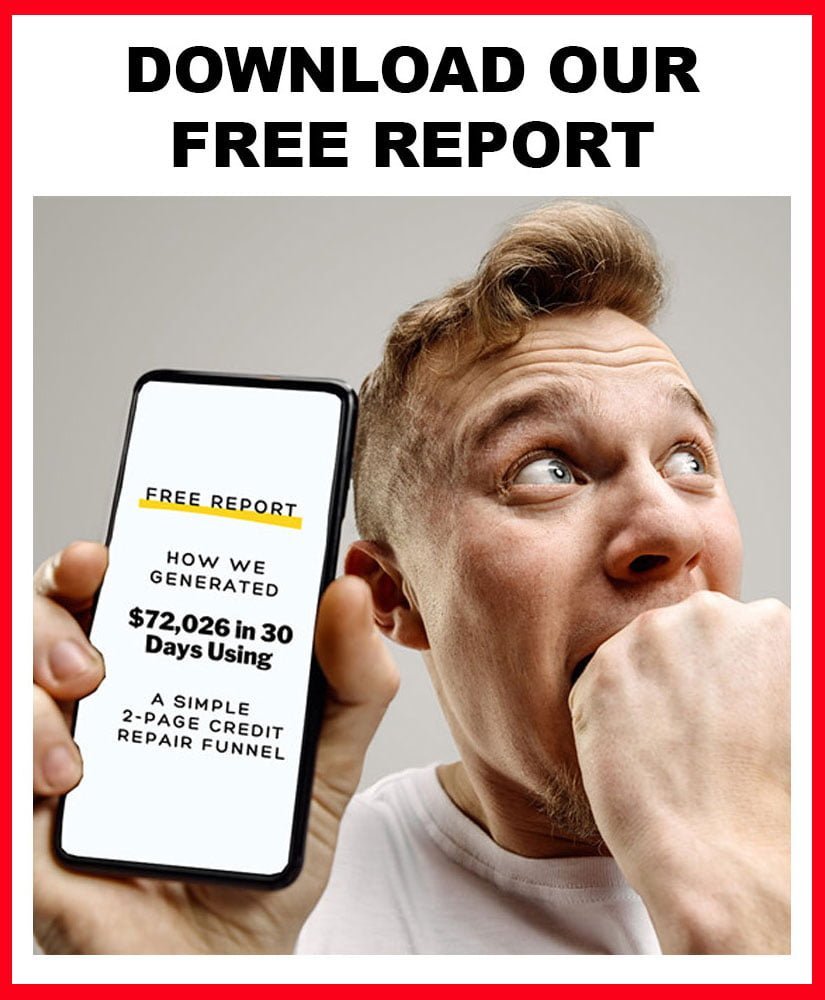 Can I find a good credit repair company on Instagram?
Yes, most credit repair companies have put up Instagram pages and created accounts for their online clients.
You should, however, do your research about the legitimacy of any credit repair online. You may find helpful information from the company reviews to avoid being scammed.
We hope this quick guide was informative and helpful in choosing the right credit repair hashtags for your business.
Tools To Help Grow Your Credit Repair Business
Learn How To Create Profitable Funnels in 30 Days with The 30-Day Challenge!
HighLevel CRM

is the be

st credit repair marketing software EVER.
Accelerate your credit repair business with our exclusive

Credit Repair Business Accelerator program

.
High-performing website hosting. One of the service providers we recommend is Siteground.

Disclaimer: In the name of full transparency, please be aware that this blog post contains affiliate links and any purchases made through such links will result in a small commission for me (at no extra cost for you).