Disclaimer: In the name of full transparency, please be aware that this blog post contains affiliate links and any purchases made through such links will result in a small commission for us (at no extra cost for you).
Attention credit repair business owners! If you're looking to scale your credit services business then you need a credit repair funnel.
What is a credit repair funnel?
A funnel is a marketing term for the combination of websites, emails, sales calls, etc that your potential customers encounter before making a purchasing decision.
Perhaps they find you on social media.
Then, visit your website.
Then, read a few of your blog articles.
Then, a few days later, subscribe to your newsletter in exchange for a helpful download.
Then, begin reading a few of your emails and decide to visit your pricing page.
Then, request a sales call.
The more potential customers you put into the top of your funnel, the more customers you should generate.

Adding Prospects To The Top of Your Credit Repair Funnel
Before we begin discussing your credit repair funnel, let's touch on some ways you can push new prospects to the top of it.
Social Media Ads
This is one of our favorite methods for getting an abundance of prospects into the top of your funnel.
Facebook, Instagram, and other emerging social media channels have captivated the attention of nearly everyone we know.
With an attractive and creative ad, we can take advantage of that user base and bring them into our marketing funnels.
We go into high detail about how we used a simple 2-page credit repair funnel to generate over $72K in revenue in this article.
SEO (Search Engine Optimization)
It has been proven that the best type of web traffic to acquire are individuals with high intent.
If someone is actively searching for a solution to a problem then they may be closer to making a buying decision vs someone in the beginning stages of research.
When someone has a problem, they typically go to Google to find an answer.
It has been said that there are approximately 5.6 billion internet searches per day.
That's quite a number of problems!
Credit repair businesses that invest in SEO could see what many consider to be some of the highest quality leads.
SEO is considered to be a long-term strategy as it takes 6-12 months for your web pages to rank high for their associated search terms.
We have an in-depth article that walks you through how to rank high for your credit repair website.
Also, you can always outsource this to a professional SEO agency.
Organic Social Media
If you have the time and patience to build out a social media following, you could see a significant amount of web traffic from your followers.
Successful social media influencers focus on providing as much value as possible to their viewers.
You can consider creating content around credit, repair strategies, homebuyer processes, interview realtors and lenders, etc.
Popular social channels to consider building a following on are Facebook, Youtube, Instagram, and LinkedIn.
Over time with a proper social media strategy, you could build a profitable audience.
Others choose to hire an agency, like TinyBull, to take over this workload.
Email Marketing
We cannot stress enough the importance of growing your email subscriber list.
Email has proven time and time again to be one of the most profitable marketing channels a business can have.
To grow your list you need something that your audience finds valuable.
Tips, tricks, downloads, free content, discounts, etc are all ways to entice your audience to subscribe to your newsletter.
You can use tools like OptInMonster or MailChimp to get a jump start.
Also, you'll need a solid email provider. Since we're on the top of creating a credit repair marketing funnel, we highly recommend GetResponse.
GetResponse actually has prebuilt funnels for you to use.
They offer landing pages, pre-built email marketing automation, webinars, and more!
Try GetReponse free for 30-days. No credit card is required.
You also may want to visit our article about credit repair email marketing.
Affiliate Partnerships
Another unique way to drive web visitors to your credit repair marketing funnel is through strategic partnerships with other businesses.
An affiliate partnership is an agreement between two businesses to share each other's traffic sources in exchange for a commission on referred business.
You would want to set up a way to track affiliate referrals.
LeadDyno is an incredible way to quickly set up, track, and more.
Podcasting
Another fantastic organic growth strategy is to begin a credit repair podcast.
Podcasting has taken off recently and has proven as a profitable way of marketing your business.
Podcasting allows you to build a relationship with your audience and position yourself as an individual of authority in your industry.
In turn, when your audience is ready to move forward with a purchasing decision, you'll be the first one they turn to.
We wrote an in-depth guide about starting your own credit repair podcast.
The Different Parts of a Credit Repair Funnel
Now that we've discussed some of the strategies you can execute to drive web traffic to your funnel, let's discuss the different steps of a credit repair funnel.
Top Of The Funnel (TOFU)
The top of the funnel is the beginning sequence of your credit repair funnel. It is the content, landing pages, and marketing communication that your prospect interacts with when they first are introduced to your business.
Middle of The Funnel (MOFU)
The middle of the funnel is designed to increase trust and showcase your authority on a certain topic. Testimonials, reviews, webinars, and video trainings are examples of the middle of the funnel content.
Bottom Of The Funnel
The bottom of the funnel is where purchasing decisions are made. This is where you highlight what your services include. Highlight the benefits of your product or service, offer supporting testimonials, social proof, and more.
Landing Pages
Landing pages can be defined as one-page websites designed to encourage an action. Such as capturing information, generating calls, or generating leads.
One of our favorite and easy-to-use landing page solutions is HighLevel CRM (our favorite marketing software, ever).
HighLevel CRM is offering a 14-day free trial of their all-in-one platform.
Landing Page Variations
Landing pages can have variations depending on the intended use of the page. Let's discuss some of the variations and what they would be used for.
Opt-In
If you have a downloadable or a lead magnet that you offer in exchange for someone's email then this is the type of landing page for you.
Lead Generation
This type of landing page is when you offer a free consultation or phone call to your credit repair service. These types of landing pages usually ask for the person's name, email. and phone number.
Webinar
These types of landing pages are where your web visitors can register and watch a webinar you've pre-recorded or are performing live.
Thank You Page Strategies
The thank-you page is the very next page someone sees after opting into your funnel.
This is a great time to encourage an additional action that helps move further down your funnel.
For example, if they submit their information for a free consultation from your lead generation landing page, then offer a bonus, freebie, or discount if they call you right now.
Use a number that you can track these calls. Something such as CallRail or even as simple as Google Voice.
Tracking and Measuring
Facebook Pixel
The Facebook pixel is a fun name for a small piece of code that you install across all of your web pages and landing pages to track, measure, and analyze your traffic.
The Facebook pixel is highly important when it comes to ensuring your credit repair Facebook ads are successful.
We cover the Facebook pixel in-depth here.
Google Analytics
Google Analytics is free software that you use to analyze web traffic, where it comes from, the time someone spends on your website, and what pages they visit.
Follow Up Software – Go High Level
Now that you have a funnel set up and are generating leads, you will want a way to automate your outreach.
GoHighLevel is a fantastic software that solves many problems.
GoHighLevel offers landing pages, email marketing, SMS marketing, phone calls, and voicemails.
This software could help you skyrocket your ability to convert your leads into paying customers.
Get a 14-day free trial of GoHighLevel today.
Putting the Pieces Together
Below is a very primitive drawing of a simple funnel. And all you really need is a simple funnel to grow your credit repair business.

As you can see we command attention in the form of value-based content or creative advertisements.
We encourage visitors to click a link to learn more.
We use the landing page to pique interest and convert that interest into an opportunity.
With that captured information we can complete a sale.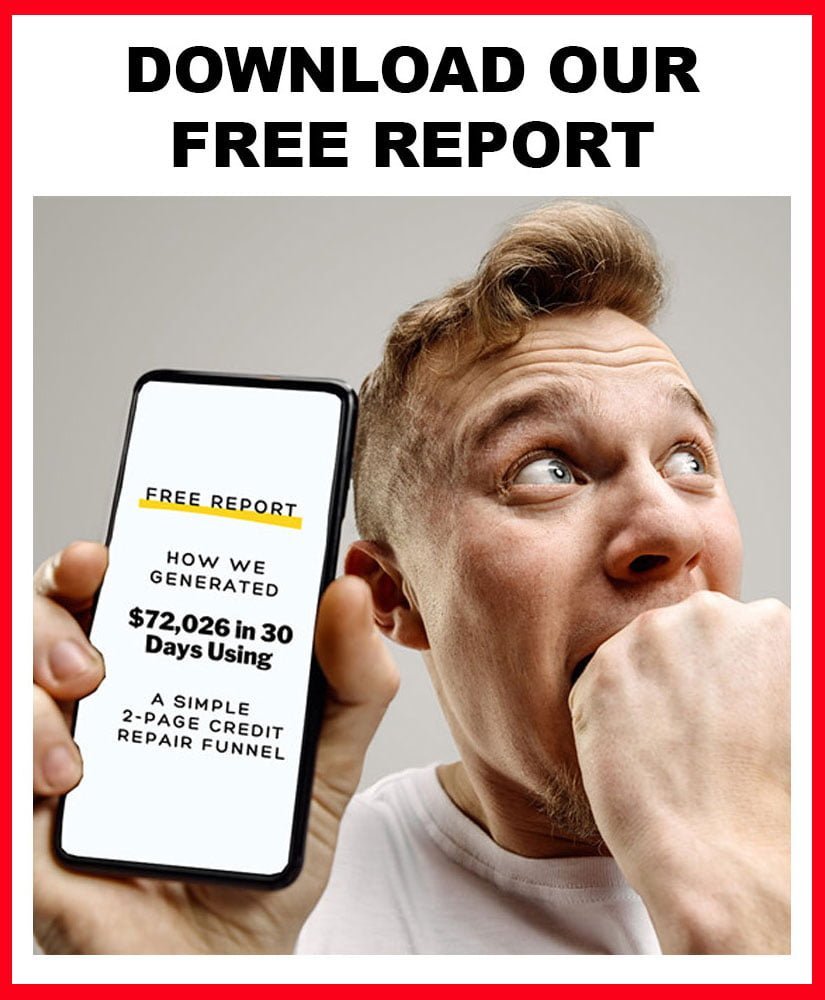 Conclusion
As you can see a funnel can be simplified into a few simple steps. However, understanding how a funnel works take time to understand.
We hope this guide helps you successfully implement a credit repair funnel for your business.
Tools You'll Need For Successful Funnels
Tools To Help Grow Your Credit Repair Business
Learn How To Create Profitable Funnels in 30 Days with The 30-Day Challenge!
HighLevel CRM

is the be

st credit repair marketing software EVER.
Accelerate your credit repair business with our exclusive

Credit Repair Business Accelerator program

.
High-performing website hosting. One of the service providers we recommend is Siteground.

Disclaimer: In the name of full transparency, please be aware that this blog post contains affiliate links and any purchases made through such links will result in a small commission for me (at no extra cost for you).