Facebook Special Ad Audiences can dramatically decrease the cost of your credit repair leads and improve the quality of your leads here's how.
If you have an existing customer base with names, emails, phone numbers, addresses, date of birth, and more, then you are sitting on a goldmine of data that could dramatically improve the quality of your Facebook ads.
Why not tell Facebook exactly who your ideal customer is and let them find even more leads for you that fit that criteria? This is exactly what Facebook Special Ad Audiences do!

Let's dive into how to make this work for your business.
Since we're dealing with ads in the Credit Special Ad Category, Facebook only allows you to create lookalike audiences using their Special Ad Audience.
What Is A Facebook Special Ad Audience?
Facebook Special Audiences are individuals you can target based on customer data you provide to Facebook.
Facebook takes this data and creates an audience that they believe to be most like those customers so that you can target them with advertisements on the Facebook ad platform.
Due to the nature of Credit Repair, Facebook only allows certain targeting metrics to be considered in order to prevent unfair discrimination. 
How Do I Create A Facebook Special Ad Audience?
First, you need customer data. This can be a list of customers that you've enrolled in your program. 
You'll want to provide information such as: 
First name.
Last name.
Email address.
Phone number.
Date of birth.
State
City
Average Customer Lifetime Value
Step-By-Step Tutorial
Once you have your list you'll want to head over to the Audiences section of the Facebook Ad Manager.
Facebook has an example CSV you can download here.
To begin creating your Custom Audience you'll want to login to the Facebook Ad Manager. When you log in you'll see a screen like the one below if you've never used the Facebook Ad Manager before.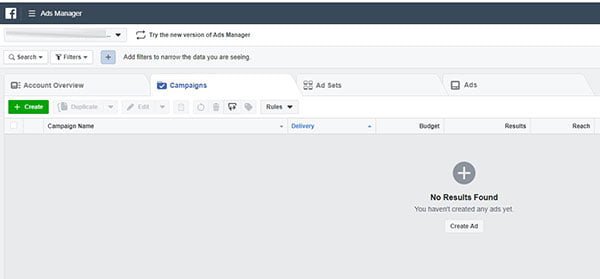 On the top left is the hamburger menu that you can click on to reveal more options. We want to click on the Audiences menu option.
Once here you should see a variety of options. We'll begin with creating a Facebook Custom Audience to use to create our Facebook Special Audience.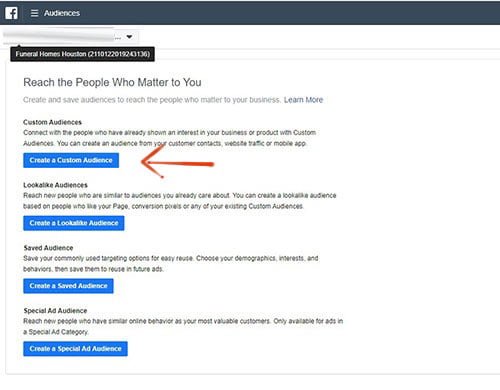 You should be greeted by this disclaimer by Facebook. Be sure to read it and fully understand their guidelines before proceeding.
Once here you'll be provided with a few more options. We'll want to select the Customer List option.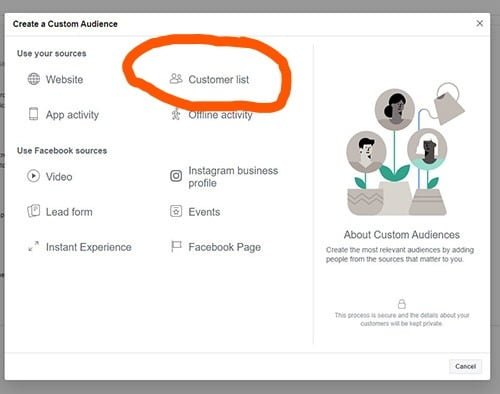 After selecting the Customer List option you'll see the following screen. If you have a list that contains the Average Lifetime Value of your customer, then you'll want to select the first option. If not you can select Use a file that doesn't include LTV. Also, you can import a list from Mailchimp.
Ok, now we're getting closer to creating your Custom Audience. The next screen is where you will provide Facebook with the details of your list, it's data, and more.
Facebook gives clear guidelines as to how to format your CSV file here.
They also provide you with an example to download and format your information to model.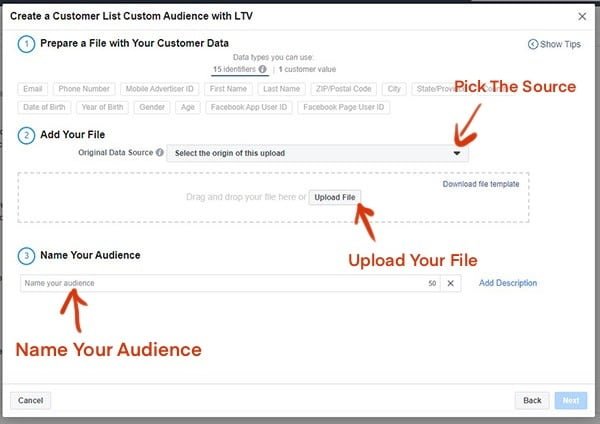 After selecting the original data source, uploading your data file, and naming your audience Facebook will ask you to confirm the mapping of the data. You should see a screen like this.
This is where you'll help Facebook to understand the data about your customer list. You'll want to ensure that your data maps correctly. Name, email, phone number, and more.
Once you've finished this step, we can now create your Facebook Special Ad Audience.
Go back to the Audience Section of the Facebook Ad Manager and select Create Audience on the top left of the page.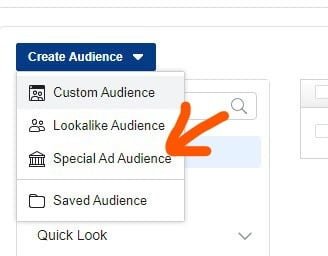 You should then be greeted by this disclaimer. Be sure to read it fully and understand the guidelines set by Facebook before proceeding.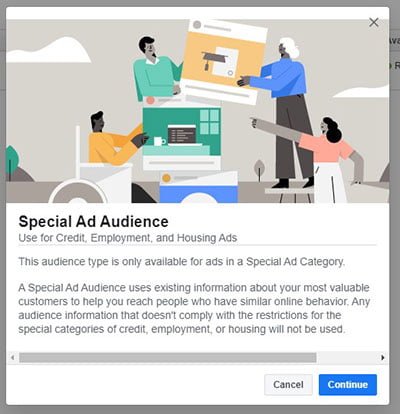 Once you click to continue we'll need to select the source of the data, audience location, and audience size.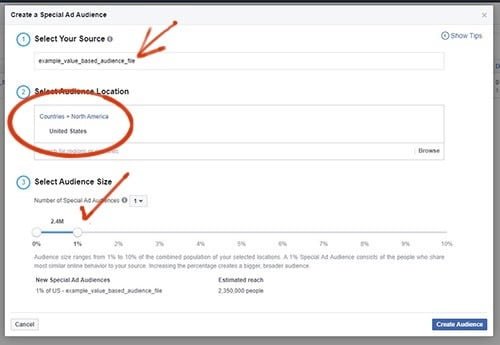 Click on Create Audience and you'll be redirected to the Audiences section of the Facebook Ad manager.
Pat yourself on the back, you've successfully created a custom audience and a special ad audience.
Now let's use it in for your Facebook ad.
Head over to the Ads Manager section of the Facebook Ads Manager tool.
Click Create Ad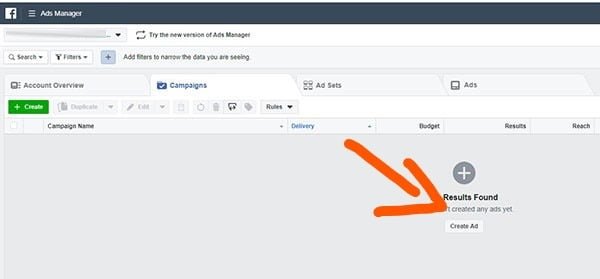 At the very top, you'll see an option to notify Facebook if your ad fits into one of their Special Ad Categories.
Credit repair fits under their Credit Special Ad Category. If you try to proceed without this option the chances of your ad being denied are high.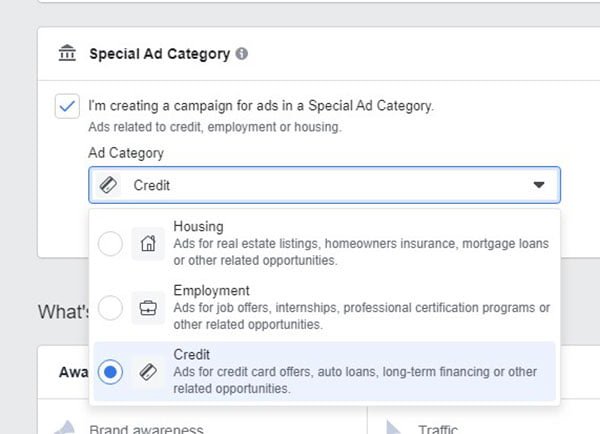 Next, we'll want to instruct Facebook what we want to accomplish with our ad by selecting a marketing objective. For this example, we'll use conversions.
Name your campaign and decide if you'd like to use Split Testing or Campaign Budget Optimization.  We'll skip this for now.
For this step, you'll want to name your adset, choose a destination (website), select your optimization (conversions) and pick your conversion event (lead).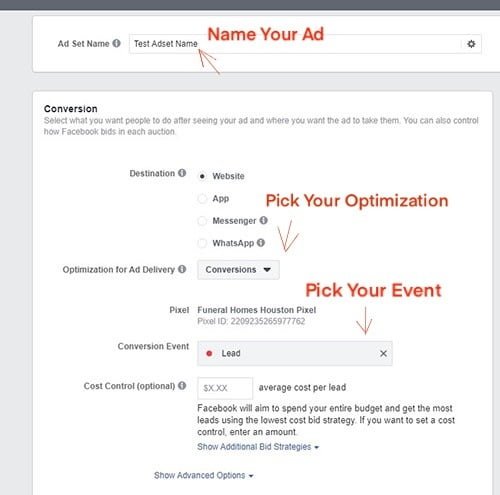 Next, we'll set our budget and schedule. We'll stick with the defaults and enter a daily budget that fits our needs. The amount you spend here is completely up to you. Facebook will optimize your ad to get you the the best results for your budget.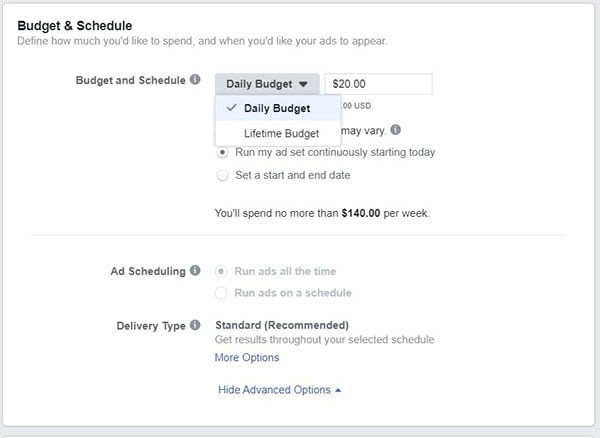 Finally, we're at the part where we can select your Special Ad Audience. You can also turn on/off the options for Dynamic Creative and Offer. 
We'll leave these OFF for this example.
Click inside the field for Custom Audiences and select the Special Ad Audience that you created from the selections that appear.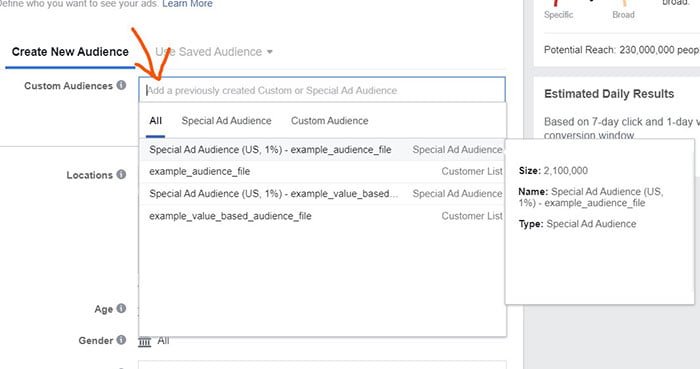 After you've selected your Special Ad Audience you can move onto location targeting. A general rule of thumb is, the smaller your budget, the smaller you should target.
If a company has a $500 a day budget available, they can target most of the United States. If they have a $5 a day budget, then it's best to stick to your city.
From the drop-down, select People Who Live In This Location.
Age and Gender are not allowed as targeting options with Credit Special Ad Category ads (this has not had a major impact on the performance of our ads so far).
By this point, you should notice the size of your audience that Facebook estimates somewhere to the right of the ad creation dashboard. 
This serves as a gage to inform you of the potential impact the targeting of your ads may have on the overall performance of your ads. 
Audience is defined is middle ground we recommend striving for.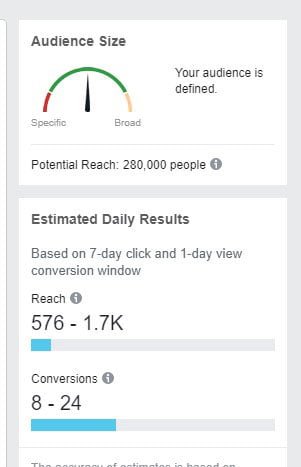 Finally, select your placements and continue to create your ads. We won't be covering the ad creation process from here and will save that for an in-depth tutorial later. 
We highly recommend allowing Facebook to optimize the best placements for your ad. The default selection is fine for the majority of folks.
Congrats, now your ads are ready to be reviewed and launch. Watch the data in the Facebook Ad Manager to determine the success of your Facebook ads for your credit repair company.
Some helpful hints we can recommend are:
Ad Copy – Make sure it resonates with their pains and frustrations and how you differ from your competition
Creative – Try different ads that use images, videos, carousels, etc.
Landing Page – Make sure you are directing your traffic to a landing page that loads quickly (not your website) and entices the viewer to take action (a form or button to call).
You're not all set to improve the performance of your Facebook ads, your cost per lead and improve the quality of leads you get.
Tools To Help Grow Your Credit Repair Business
Learn How To Create Profitable Funnels in 30 Days with The 30-Day Challenge!
HighLevel CRM

is the be

st credit repair marketing software EVER.
Accelerate your credit repair business with our exclusive

Credit Repair Business Accelerator program

.
High-performing website hosting. One of the service providers we recommend is Siteground.

Disclaimer: In the name of full transparency, please be aware that this blog post contains affiliate links and any purchases made through such links will result in a small commission for me (at no extra cost for you).