Are you overwhelmed by the number of credit repair clients you have to serve in a limited time?
Have you ever considered getting a little outside help to unload your shoulders?
If you haven't, you should outsource credit repair dispute letters as an essential yet underrated part of credit repair business growth.
Here, a tired and overwhelmed credit repair business owner can find all that he needs to know about outsourcing, including its advantages and when to do it and how.


BENEFITS OF OUTSOURCING CREDIT REPAIR DISPUTE LETTERS
Outsourcing is popular in credit repair businesses because it has several advantages associated with it.
These benefits outweigh the costs of outsourcing and, thus, make this technique preferable among growing companies. some of the significant benefits of outsourcing include the following:
OUTSOURCING REDUCES WORKLOAD.
Let us start with the obvious; outsourcing will always save you a lot of effort and take plenty of stress off your shoulders.
An overwhelming amount of work can be dangerous for you both physically, mentally, and in terms of your service quality.
If you are overwhelmed and tired, your work efficiency will decrease, leading to stress further, and the vicious cycle goes no.
This reason is primarily why people start looking for outsourcing as soon as they start growing their business.
The credit repair workload can get quite overwhelming very suddenly.
Getting outside help and sharing your workload can help you become more physically and mentally relaxed.
YOU CAN RE-ALLOCATE YOUR TIME AND EFFORT.
With all that free time and physical energy that you will save, you can work on other things to improve personal or business growth.
Because of your busy schedule, a lot of different areas of your business are probably being neglected.
Outsourcing will provide you the time to focus on them.
Plus, you can think about all the different ways to improve your credit repair business and implement new strategies for your company's development.
This way, your outsourcing team can handle the work, and you can focus on business expansion.
It will maintain the quality of your services and improve individual growth as well.
Together, it will take your business to the next level of success.
OUTSOURCING INCREASES THE QUALITY AND EFFICIENCY OF WORK.
When you serve ten clients a day, you are bound to get fatigued near the end.
In turn, being tired certainly affects the quality of your services; it drastically reduces it.
However, with several people working on separate projects, work gets done much more quickly and efficiently without ruining its quality.
Every client gets his work done in a set time frame, and high-quality work makes the client happy and satisfied.
Such a client is most likely to return in the future and recommend you to other people, thus helping you expand your business without spending a penny on advertising.
Do you see how everything works in a loop?
OUTSOURCING CREDIT REPAIR DISPUTE LETTERS HELPS YOU BRAND YOUR BUSINESS.
If you think getting someone else to work for you will only internally improve your business, you're wrong.
You will provide better services, and you will also become well-known for your quality work in the market.
This popularity intern helps you maximize your chances of getting more jobs and more clients.
This way, you will not just grow internally by getting more work, but your name will also spread, and your brand will grow externally.
AFFORDABILITY AND PROFITABILITY.
Getting help from people who have excellent capabilities in your field might sound like it will be expensive and take away all your profit.
However, it is not entirely true. Having an eye for skilled and passionate people who will charge less for labor than you do will pay off when you turn to outsource.
You should not exploit juniors at any cost, and that is certainly not being implied here.
It means that beginners in the field usually have a lot to learn and have less experience than you do, which is why they charge less and accept lower wages.
Even though their minimum experience and beginner skills mean that they will not be able to do all your work for you, even a small amount of help can make a lot of load off your shoulders.
THE RIGHT TIME TO OUTSOURCE CREDIT REPAIR DISPUTE LETTERS
Taking the correct step but at the wrong time can cancel out all of its benefits and can even result in damage.
So, outsourcing also has the proper time and phase for action as all other steps of business growth.
Here's how to know when you should start outsourcing credit repairs:
Your first hundred clients as a credit repair business owner are the most challenging, yet, the most important ones to gather.
You must satisfy most of these clients because they help you build your business reputation in the market.
Plus, these clients also help you stabilize your business financially, so they must be profitable.
Thus, remember to use all the help available to you and put all your effort into these first hundred clients.
When you start your business, taking one step at a time, you might have everything under control.
However, as soon as you start progressing and gathering more and more client work, things can start getting overwhelming reasonably quickly.
You'll need urgent help, and believe it or not; you will probably not see it coming.
When this time comes, you will not be able to excuse your workload to get yourself together because let's be real; the clients will not wait for you to calm down and relax, right?
You'll need to sort things out quickly and in the middle of all the chaos.
Making a plan to outsource, manage it, and finish your existing tasks at the same time sounds pretty harsh, doesn't it?
So, your outsourcing plan should be ready to implement to prevent this state of panic.
Make sure you think about what method of outsourcing you will choose what the costs will be, and make all the necessary arrangements in advance.
If you are going to opt for human outsourcing, make sure you have a team of people ready for work.
Discuss and finalize your payments, work requirements, job descriptions, and other essential aspects beforehand.
Doing this will help save time and prevent any miscommunications or stress when you need help.
Another suitable time to outsource is when you suddenly feel like your credit repair business is hitting a plateau or decline.
If you are giving it your best and is still not showing good results, you probably miss something essential.
Outsourcing can help you figure out what that is.
Thus, before you and your business hit bottom, accept some extra help and support to climb back up the ladder.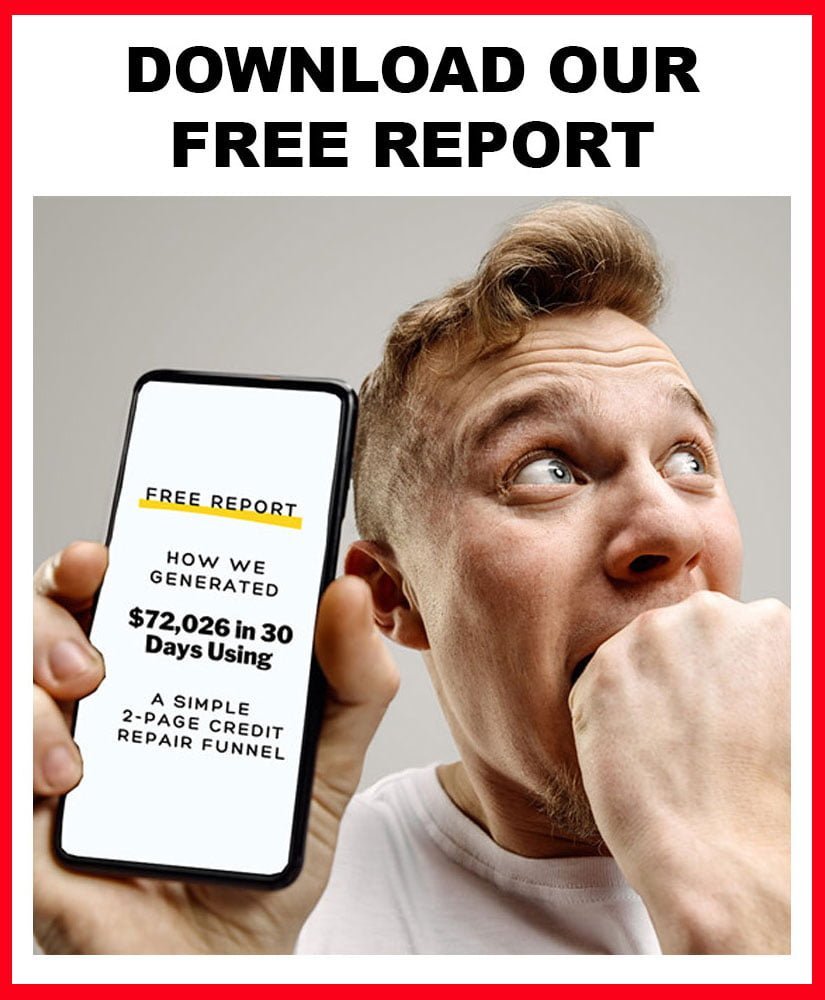 HOW TO OUTSOURCE CREDIT REPAIR DISPUTE LETTERS
There are two significant ways to outsource in credit repair businesses: human outsourcing and software outsourcing.
Human outsourcing is an excellent way to shed a part of your responsibilities and reduce some stress.
Finding capable people that you can count on and making strong bonds with them can help take your business to the next level.
These people will not only reduce your workload but will also improve the quality of services that you provide to your clients.
In turn, this improvement helps in hands and enhances the reputation of your business name in the market.
Human help also has the benefit of communication.
You can be expressive to your colleagues or employees, tell them about your requirements, and avail of work accordingly.
Plus, this kind of outsourcing also helps you develop a social network inside your business and externally through references.
Even still, human outsourcing has its cons and drawbacks.
Firstly, it is a tough job finding people with a suitable skill set for the job and a mind that matches yours.
Credit repair businesses do not work on a copy-paste mechanism.
You need all kinds of skills to grow in this domain and be successful.
Thus, if you are working with partners and want equal quality work from everyone, all team members must have a similar mindset and work standards.
Plus, human error is almost inevitable when it comes to human outsourcing.
No matter how much you proofread and keep a check on everything, there is always a chance of mistakes.
If an error is too big to avoid, it can cost you a lot of money, and sometimes, even your reputation.
Furthermore, human resources can be tough to count on in the long run.
People are always looking for better opportunities.
An outsourcing team is seldom permanent because of the members of this teamwork for a specific wage for a particular amount of time.
After that, when they develop their skillset and experience level, they move on to more significant opportunities.
Thus, you can never fully count on them to stay with you throughout the business journey.
Another vital thing to remember about human outsourcing is that credit repair jobs sometimes involve essential and sensitive information.
You and your client might not always be comfortable sharing this information with your outsourcing team members.
Even if you trust them, violating the privacy demands and ignoring their security requests can lead you to many future problems in terms of legality.
These problems will be associated with invasion of privacy, and insensitivity towards your client's private information.
Having issues like such on your business profile and history can seriously damage your financial status and your reputation in the market.
Hence, you must always be very cautious about what information you pass on to your outsourcing team and what you keep confidential.
On the other hand, software outsourcing is a new and increasingly popular technique of business growth.
Credit repair business software is an excellent way to run your business smoothly and provide equal services to clients.
Plus, they assist in your business areas about which you might not have complete or specialized knowledge.
They help you organize communication between a client and a dashboard and coordinate outreach using automated and preset follow-up letters for credit bureaus and creditors.
Plus, you can also generate new leads using a custom credit repair website.
In contrast to human resources, these software work great in the long run.
They are reliable, consume less expense in terms of labor, and are easier to manage independently.
Plus, the factor of human error is also minimum when it comes to technology and software outsourcing.
Another important and beneficial aspect of this method of outsourcing is that web-based software will allow you to improve your current credit repair business and open a new one.
Sounds interesting, right? It's true.
You can start your new credit repair business without investing in a separate office or a separate team to manage it.
You can work from home, anywhere and anytime you want, and you will not be answerable to any employers.
However, this method has its separate risks and negative aspects as well.
Softwares can sometimes be tricky to run, and you will initially need help understanding them.
If you are a busy person and don't have time for this, you will eventually need human resources to manage and maintain this software.
Plus, software outsourcing also lacks the features of social networking and inter-business relationships.
Based on your personal preferences and requirements, you can choose either of these outsourcing methods and make your life easier.
Even though both have their separate sets of pros and cons, you can choose one depending on what you require to grow your business and where you are ready to compromise.
However, give proper thought to this decision and make your final choice carefully and confidently.
CONCLUSION
Outsourcing credit repair dispute letters is a popular way to divide your workload and get some time for yourself and grow your business in various directions.
There are many benefits associated with this concept, and there are certain dos and don'ts related to it.
However, if done right, outsourcing can help you take your business to the next level without burning out!
If you often have trouble managing your time or someone who is overwhelmed with the amount of upcoming workload, the information given above will help you figure out an easy solution to your problems.
Tools To Use To Grow Your Credit Repair Business
Tools To Help Grow Your Credit Repair Business
Learn How To Create Profitable Funnels in 30 Days with The 30-Day Challenge!
HighLevel CRM

is the be

st credit repair marketing software EVER.
Accelerate your credit repair business with our exclusive

Credit Repair Business Accelerator program

.
High-performing website hosting. One of the service providers we recommend is Siteground.

Disclaimer: In the name of full transparency, please be aware that this blog post contains affiliate links and any purchases made through such links will result in a small commission for me (at no extra cost for you).