Why should you use HighLevel CRM in your credit repair business?
So you're ready to graduate from your notepad and Google sheets are you?
Say hello to HighLevel CRM.
HighLevel CRM was designed for today's needs, and it includes many features that are perfect for credit repair businesses.
HighLevel CRM has many premium features rolled into one software.
For example, it has SmartLists functionality, which makes it easy to keep track of your clients and their contact information.
You can also use HighLevel CRM to send emails and SMS messages, making it easy to stay in touch with your clients.
Additionally, the Power Dialer feature makes it easy to call your leads and clients quickly and easily.
And finally, the Reporting feature provides you with all the information you need to track your progress and see how well your business is doing.
And so much more. Let's dig in.
How does marketing automation help your credit repair business?
Automation of tedious marketing tasks can help you focus on the tasks that help your business grow.
One of the most important benefits of automation is that it allows you to free up time to focus on more important tasks.
For example, if you automate lead nurturing and filtering, you can spend your time talking to potential clients rather than sorting through leads.
This is important because it allows you to focus on building relationships with potential clients and increasing sales.
Additionally, automation can also help you save time and money by reducing the amount of manual work that needs to be done.
How HighLevel CRM Can Save Your Credit Repair Business Money
Businesses can save money by using an all-in-one CRM platform.
This is a platform that allows businesses to manage their customer data, communications, and sales processes in one place.
Having one platform saves businesses time and money because they do not need to buy or keep track of multiple software applications.
Also,, all-in-one platforms often have a lower total cost than separate services.
HighLevel CRM Features You Can Use In Your Credit Repair Business Today
CRM
Two-Way SMS
Website Builder
Landing Page Builder
Funnel Builder
Website Chat
Calendar Scheduling
Marketing Automation
Blogging
Sales Pipeline
Appointment Booking
Appointment Reminders
Course Memberships
Social Media Management
Call Tracking
Reputation Management
Email Marketing
Surveys and Forms
And new features are being added often.
This is considered by many to be the ultimate marketing toolkit.
With an idea and some effort, you can build your online business in no time.
HighLevel CRM Pricing
HighLevel CRM has multiple levels.
Many will only need the basic plan at $97/month.
If you have multiple businesses or locations you can sign up for the Agency plan at $297/month.
Finally, if you want to white-label your own Saas built with HighLevel CRM, you can go with the Pro Plan at $497/month.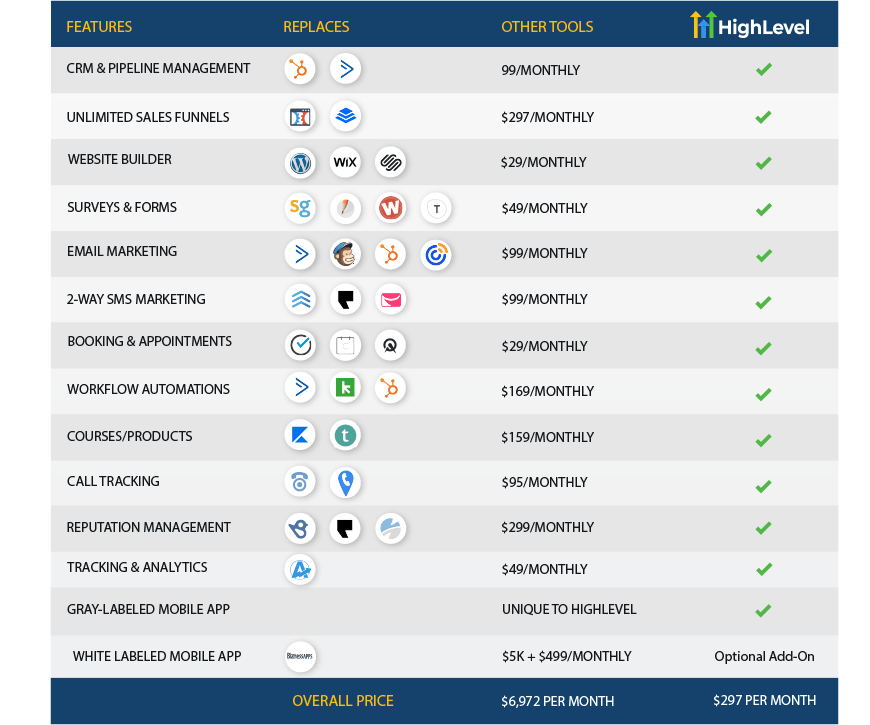 HighLevel Credit Repair Workflow Ideas
Lead Follow Up/Nurturing
Appointment Reminders
No-Show Appointment Follow Up
Special Offer Promotion
Credit Monitoring Issues
Review Gathering
Conclusion
Using HighLevel CRM in your credit repair business is worth the time and effort it will take to implement.
If you learn the ins and outs of the software, your brain will light up with automation ideas, and you'll start to learn how to put many of the tasks of your credit repair business on autopilot.
Tools To Help Grow Your Credit Repair Business
Learn How To Create Profitable Funnels in 30 Days with The 30-Day Challenge!
HighLevel CRM

is the be

st credit repair marketing software EVER.
Accelerate your credit repair business with our exclusive

Credit Repair Business Accelerator program

.
High-performing website hosting. One of the service providers we recommend is Siteground.

Disclaimer: In the name of full transparency, please be aware that this blog post contains affiliate links and any purchases made through such links will result in a small commission for me (at no extra cost for you).