With the rise of various credit repair companies, consumers have many options.
As a credit repair provider, it is important you market your credit repair business.
So, you've probably looked into hiring a credit repair marketing agency.
There's no end to the number of options and providers out there.
So how do you make sense of what agency to use?
Follow along as we point on major red flags to look out for and how to identify a reputable agency.

Let's uncover some things you need to be aware of when considering a credit repair marketing agency.
1. Overall experience and specialization
It's important to pick the right team for your project regardless of the services. For instance, you cannot get a logo designer to design a website right?
This applies the same way to the marketing industry.
A credit repair marketing agency may seem to have good intentions, but intentions alone don't show that they have enough experience to drive results.
The agency should have a solid understanding of how to deal with your business needs and the strategies needed to get you clients.
So, it's your responsibility to thoroughly research the company you plan to hire.
Here are some pointers:
● Look through their about us page to check who runs the company, what the team members are, and what kind of experience they have.
● Use LinkedIn to search for their team members. You can start by searching the agency's name, then tap "click" to see the team members and their specialization.
2. Budget
The old saying goes "you get what you pay for".
Knowing that, should you go with the cheapest or most expensive credit repair marketing agency?
Our recommendation: Whatever fits your business needs.
If you're starting out and don't have much cash flow, then you may want to consider learning how to do these things on your own first.
If you're already a 6 figure or 7 figure company, then find a company that has a proven track record of results and pay knowing you have peace of mind.
The cheapest (in our experience) isn't always the best.
Let's break down some pricing models that these agencies charge:
● Per hour: the agency will charge work at an hourly rate.
● Per month: you may pay a monthly fixed fee.
● Per project: a fixed fee will be charged based on the project.
Be sure to look at their arrangement, terms, and conditions.
Before you sign an agreement, have a thorough look at it and even consult with a business attorney to make sure you and your business are equally protected.
Have a clear discussion to align expectations.
Learn exactly what your business will receive and what you need to provide so that the credit repair marketing agency can perform its duties.
4. Review their digital marketing
DIssect their online presence.
Is their website optimized? Does it practice good fundamental marketing practices?
Do they have tracking analytics installed?
Are you considering hiring them for credit repair social media content? How is their social content?
Are you considering hiring them to run advertising for you? How is their advertising?
5. Scope of Service and Timelines
The next thing to consider is their scope of services and timelines.
What work will they be covering and more importantly, what do they NOT cover?
The last thing you want to do is sign an agreement only to find out you're responsible for content creation, ad creation, landing pages, etc.
Also, for the service the credit repair marketing agency does cover, how long are they quoting before milestones are completed?
Hold them firmly to those timelines.
6. Strong online reputation and reviews
Social proof, including previous client reviews, can give you enough insight into the credit repair marketing agency's reputation.
Smart marketers know the significance of showing social proof on their sites.
You can try to search for positive reviews of different clients.
Apart from positive testimonies, you may find neutral or negative reviews if the agency didn't deliver for previous clients.
Remember that not every review is completely accurate.
Some may be fake, and others can reflect someone's frustration.
Lastly, Google is a great place to find in-depth reviews of past clients and their experience with the company.
7. Realistic claims and promises
The right agency will set proper expectations and never claim outrageous results.
They'll have very clear conversations about what the other end of their services looks like and any speed bumps that may arise.
True success takes hard work and collaboration.
If the agency paints a picture of ease and little to no work from you, then you may want to consider another credit repair marketing agency.
An ethical agency will let you know exactly what to expect and how you will contribute to the success of the partnership.
8. Communication
A good credit repair marketing agency will have clear channels to reach them.
And they will give you the expectation of how often you will hear from them (if you want).
Some businesses want less interaction as long as results are coming in.
9. References
As a credit repair provider, you have to be cautious when selecting a marketing agency to avoid fraud or scams.
References are a great way to evaluate their reliability and competence.
These references involve customers that they have collaborated with in the past.
This will enable you to see clearly how well they served their clients.
Benefits of hiring credit repair marketing agency
Advantages of getting a professional credit repair marketing provide include:
Effective work
Less headache and more results.
When you work with a marketing agency that specializes in marketing your type of service, you can rest assured that you are in good hands.
Those late nights of trying to "figure out" SEO, Facebook ads, content marketing, etc, are gone.
Focus on what you do best, helping your clients.
A credit repair marketing agency will help bring in customers.
Digital marketing requires a lot of expertise. It takes a lot of experiments, sophisticated analytics, and a lot of experience.
Cheaper Than A Full-Time Employee
Hiring a digital marketer in-house, full-time, that has experience in SEO, Facebook Ads, and content marketing will run you $75,000 per year or more.
You pay a fraction of that cost and save on having to pay for benefits.
Prepare your Team
It is important to have your team ready.
Hold a meeting to prepare them for a partnership.
This is also the best time to prepare any requirements for the digital marketing agency.
If you have anything you need to highlight, then this is the best chance.
The agency needs as many details as possible for even better results.
Be ready to hand over some control
Always remember that reputable digital marketing agencies are good at what they do.
Once you hire one, let them execute and do their job.
This will give them the space to do what they do best.
Note the advice, recommendations, and tips that they offer.
Prepare for collaboration
Successful digital marketing projects require collaboration.
Your ideas, thoughts, and inputs will help drive the project to the right path.
You need to understand what the agency will require from you throughout the project.
Having a point of contact helps a lot in ensuring the project runs smoothly.
Ask questions
You will experience many new things if it's your first time working with a Credit Repair Marketing Agency.
It is important to ask questions if you don't understand something.
For example, you may be wondering why they choose a certain design over another one.
This is the best opportunity to ask questions and gain clarity.
Roles of a Credit Repair Marketing Agency
Research Credit Repair Marketing Strategies
A credit repair marketing agency carries thorough research on your company and your competitors.
This helps to identify gaps and seal them with powerful campaigns.
The research also includes identifying your ideal audience and how your services fit their needs.
A successful credit repair company has a robust presence online that amplifies its authority.
Strategize
One of the most important roles of a credit repair marketing agency is coming up with successful strategies.
They ensure that your business maximizes ROI and gets the best results possible.
With a powerful strategy, you will get more clients and build a comprehensive portfolio.
Create or advise on a marketing budget
A credit repair marketing agency will recommend a budget if you choose to utilize paid advertising.
The marketers know exactly how much money is required to help you achieve your goal.
Your goal is up to you and your business.
Some businesses simply want 30 new clients per month, while others want 300.
Credit repair marketing agencies also help clients save money by using your budget to get the biggest bang for the buck.
Credit Repair Marketing Specialties
There are many marketing duties agencies carry out to help a business grow.
All of them require experienced professionals to drive the best results.
Examples of the core marketing strategies include:
Social media Management
Pay per click advertising
Search Engine optimization
Email Marketing
Content Marketing
Web design and development
Landing pages
Conversion rate optimization
Brand management
After coming up with strategies, the agency has to implement and execute them.
Although this might sound easy, it takes a lot of expertise to execute successful strategies.
They have to make sure that the strategies are within the budget.
Professional markets always know where how to implement successful campaigns.
Monitor and report performance
The credit repair marketing agency monitors and reports the performance of each campaign.
You should receive regular reports showing the progress of each campaign or project.
Data-driven credit repair marketing agencies can make adjustments on the fly to improve performance.
Conclusion
Consumers consider several things when they look for a credit repair company.
If you want to be successful in the long term then you want to make sure your business is set up for success.
There are challenges when marketing your services, such as a highly competitive environment.
Unfortunately, trying to wear a full-time marketing hat while running your business isn't easy.
A credit repair marketing agency can take an important part of growing your business off your plate.
The tips mentioned above will ensure you choose the right marketing agency and get the results you expect.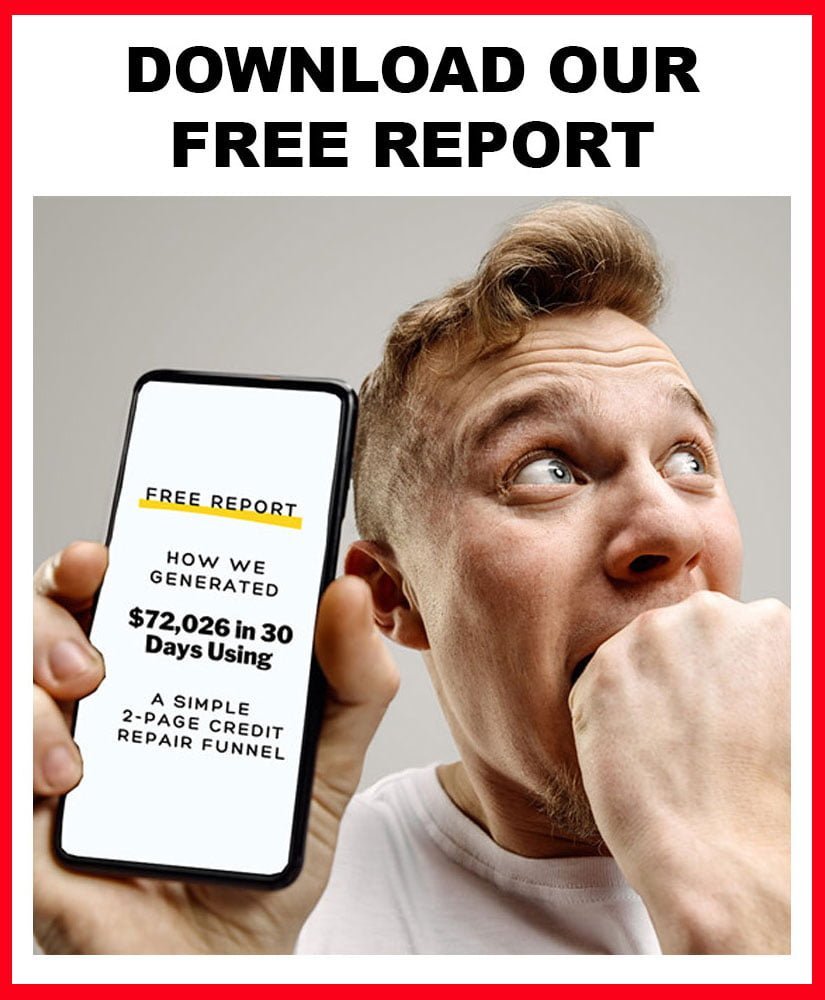 Tools To Help Grow Your Credit Repair Business
Learn How To Create Profitable Funnels in 30 Days with The 30-Day Challenge!
HighLevel CRM

is the be

st credit repair marketing software EVER.
Accelerate your credit repair business with our exclusive

Credit Repair Business Accelerator program

.
High-performing website hosting. One of the service providers we recommend is Siteground.

Disclaimer: In the name of full transparency, please be aware that this blog post contains affiliate links and any purchases made through such links will result in a small commission for me (at no extra cost for you).