For Credit Repair Business Owners That Are
Ready To Explode Their Income & Get Their Time Back
Land your next 100 clients within 30 days using this proven 5-step system and say goodbye to endless networking and wishy-washy referral partners.
Join the group of elite credit repair business owners that are scaling their companies to 6-figures or more using this easy, 5-step marketing system.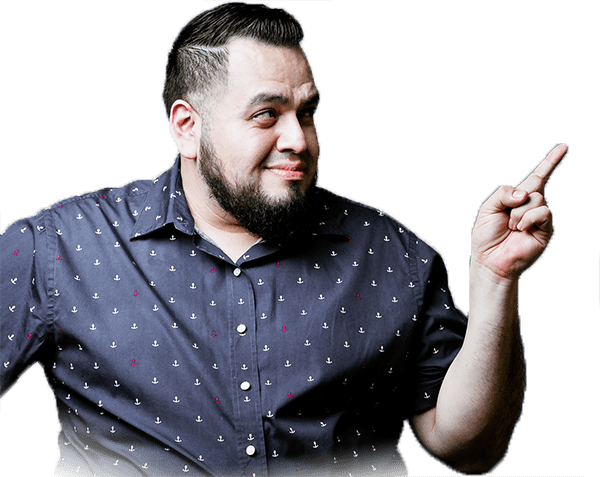 Then you'll want to
continue reading..
"It's time to say GoodBye to the slow way of
growing your Credit Repair Business."
It's 2020. The old ways of growing your credit repair business are now slow and ineffective. The internet has opened a new playing field for your competitors and they are raking in the profits. Credit repair companies that don't adapt are risking it all.
8 Years Ago we were a struggling credit repair company doing everything we could to get customers.
We were doing everything we were told were the "keys to success". Network, get referrals, make flyers, post on social media, post ads on the radio, google ads, and more. You name it, we tried it. 
It felt like we were spinning our tires in the mud. No matter how hard we tried, we could not grow as fast as we wanted.
Then we discovered social media advertising and it completely changed our credit repair business.
We went through years of testing, tinkering and optimizing to come up with a proven system that generates us clients nearly on demand.
After thousands and thousands of wasted advertising dollars, we finally cracked the code…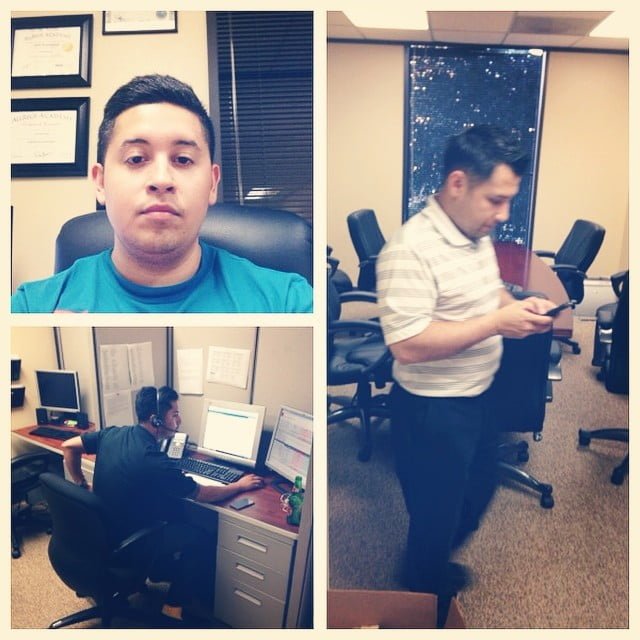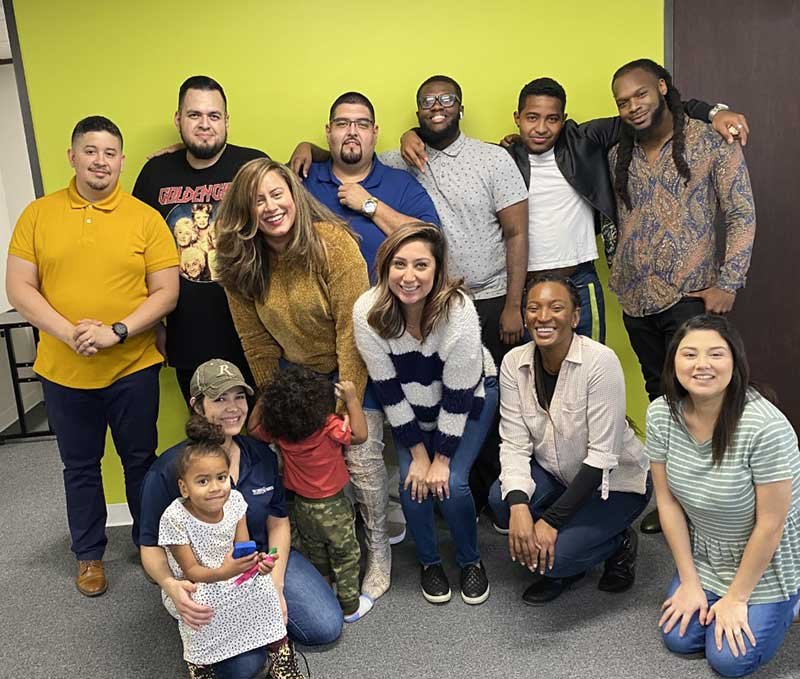 Flash forward to 2020, we hired nearly 30 new employees and we are on pace to do multiple 7 figures.
We're not "experts" by any means. We're not special. We're everyday people just like you that didn't stop when things got tough.
We learned many lessons and put a ton of blood, sweat, and tears into growing our credit repair business. 
You get to learn from our mistakes and get a jump start at growing your organization so that you can create the lifestyle of your dreams.
I used to lay awake at night worried about how I was going to stay in business. Now, I get to spend time more time with my loved ones.
All of this was due to learning a system that automated the process of finding new credit repair customers.
If you're ready to dig in and learn, we're ready to help.
Don't believe overpriced "marketing gurus".
Scaling your business can be simplified into 5 easy steps.
Easy To Launch Social Media Ads -> Simple Landing Pages -> Sales Calls -> Closed Business -> Reinvest Profits
Not with some overly-complicated funnel.
This isn't the same online course that the "gurus" are selling.
This is designed specifically for generating credit repair leads.
We've developed a training just for credit repair business owners that want to launch this simple business growth system…
This Training Program is Perfect For:
Anyone tired of relying on wishy-washy "referral partners" to grow their credit repair business.
Anyone sick and tired of endless networking and pointless coffee dates.
Anyone ready to take massive action and ridiculously grow their credit repair business.
Anyone tired of endless social media posting and fruitless "tactics" that never seem to pan out.
Anyone tired of paying ridiculous fees to "marketing agencies" for leads that don't close.
Anyone that isn't afraid of hard work and wants to take back control of their business.
Anyone who wants to wake up everyday to fresh credit repair leads waiting for your call.
Who This Training Program is NOT For:
Any looking to waste thousands of dollars on a DONE-FOR-YOU service.
FES or MLM type of credit repair programs. (You just don't have the profit margins).
Anyone afraid of selling over the phone.
Anyone looking for a shortcut to success (it doesn't exist).
Anyone who considers themselves "experts" at Social media Ads. This is for those just starting out.

Listen To What Others Say
More Kind Words From Our Students..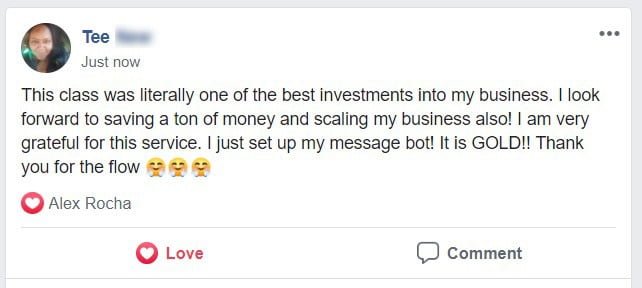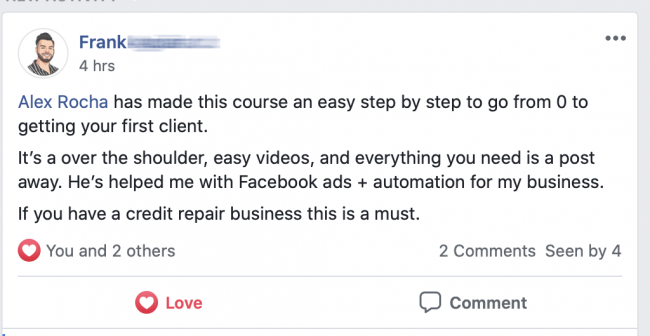 Your Next 100 Customers Are Waiting..
Frequently Asked Questions
Yes. We have a 30-day money back, satisfaction guarantee.
Yes, they are! We'll show you how to stay compliant so that your ads get approved.
Yes we do. Our students get full, priority email support and access to our private Facebook group.
What's Inside Credit Repair Business Accelerator Program Online Training?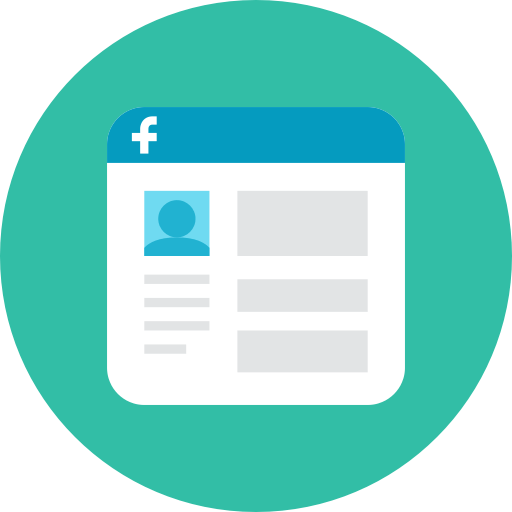 High-Converting Facebook Ad Formula
Examples of high performing Facebook Ads that you can copy, paste, and execute for your business. Our videos show you step-by-step how to launch your ads in virtually no-time.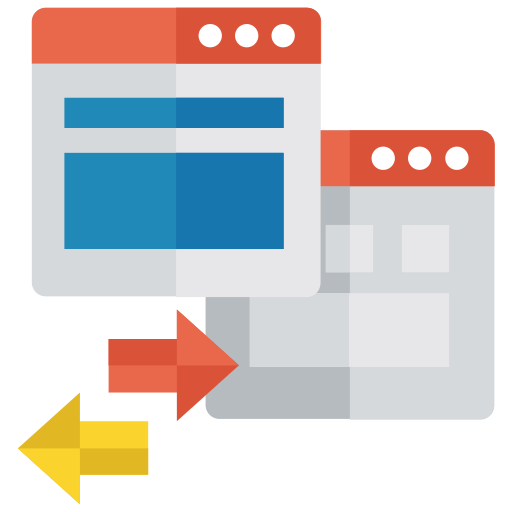 Easy To Launch Marketing Funnels
Learn how to launch marketing funnels that help you get credit repair leads. Get set up and running quickly so that you can start generating customers for your business today.
Ad Budget Success Calculator
No matter your budget, this handy tool will help you quickly determine what your potential ROI could be and how many customers your marketing can project.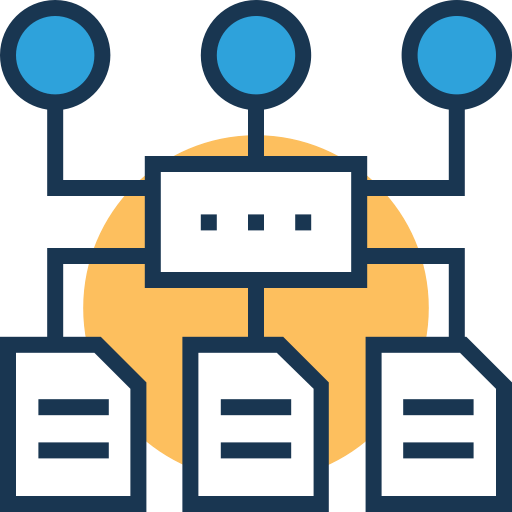 Automated Lead Follow Up System Formula
Don't spend all day chasing leads. Why not have them call YOU when they're free? We show you step-by-step how to implement an automated lead follow-up system that works for you 24/7.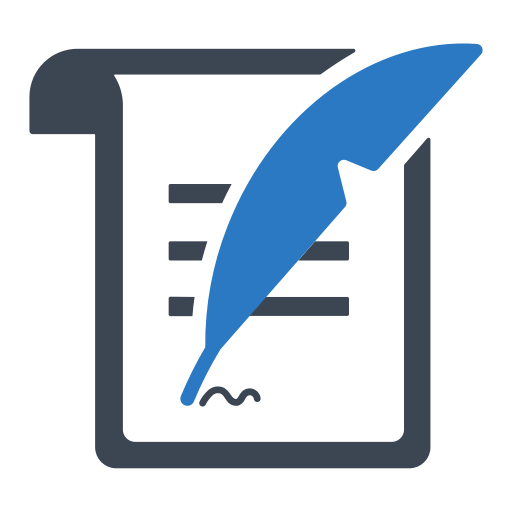 Email Sequences That Convert
Get a 5-email sequence example that we believe will help you develop trust, build brand, and help turn leads into eager customers ready to pay you for your credit repair services.
Exclusive Facebook Group Community
Network with other credit repair business owners that are on the same mission as you. Get answers to your questions and roadblocks directly from others that have experienced your same problems.

Eye Catching Facebook Ad Templates
Use these copy and paste templates so that you can get up and running in as little as 1 day.

Trello Board Ad Success Road Map
Keep track of each and every important step you need to take to launch your credit repair ads using this productivity-inducing Trello board.

Our Secret Black Book of Freelancers
Use our secret black book of trusted freelancers that we use to scale our credit repair business fast. From virtual assistants to graphic designers to web designers and more.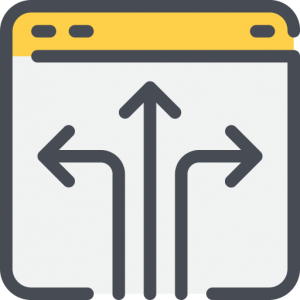 360° Re-targeting Strategies
For 2020
Learn how to ethically follow potential clients all over the internet. These strategies can help you build brand, trust, reputation and finally win over those tire-kickers and turn them into paying customers!
If you're still reading this then you must be thinking...
"But what if I don't know how to create Facebook ads?"
No worries. We provide you with easy to edit Facebook ad templates to use right away. Plus, we show you how to get video ads made fast and cheap. You don't have to be on camera if you don't want to!
"But what about writing all those words? I don't know what to write! "
No worries, we walk you through what Facebook likes and doesn't like when it comes to credit repair and what you can and can't say in your ads.
"But what if I don't know anything about launching Facebook ads?"
Rest easy, we walk you through step-by-step on how to create Facebook ads. You will watch us create ads click-by-click, how to pick your location, how to determine your budget, how to target your audience, and even how to analyze and improve your ads.
"What if I don't know how to create a landing page?" 
We give you landing page templates to use right away. Ranging from free to paid software. There's a solution for everyone. We also walk you through the do's and don't of landing pages so that you get the most leads possible.
"What if I buy this and it doesn't work?"
Nothing in life is guaranteed. That's why business owners are ok with risk. Luckily, we offer a 30-day money back guarantee. If you buy this and don't find the content valuable, feel free to request a refund within 30-days.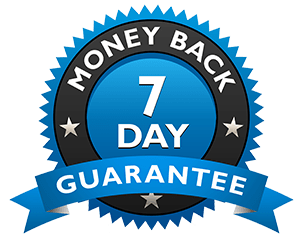 "If you buy our course and aren't satisfied for any reason, you may request a refund within 7 days of purchase."
Recap of What Comes With The Credit Repair Business Accelerator Program
NORMALLY $997
TODAY ONLY $697

!

Are you ready to finally truly grow your credit repair business?